Matt O'Connell | Feb 27, 2012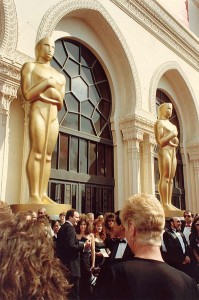 Here's hoping your Monday is excellent so far.  If you're attending one of the conferences mentioned below, there's a good chance that's possible.  Also, if you had anything to do with making The Artist, it's more than likely you're feeling pretty damn good today.
RSA Conference 2012 begins the week with us, bringing cipher security into the cloud.  This 5-day event gathers information security leaders, hot new products and quotable keynote speakers for the year's most important discussion of internet security.  It's taking place here in San Francisco, so I'm pretty confident this post won't get hijacked.  To get fully prepared, check out this conversation with RSA Head Art Coviello.  FYI, Cloud Security Alliance Summit is held along with this event at the Moscone Center, offering visitors even more options to explore.
TED is convening a group of unique people in Palm Springs for TEDActive, where these folks will be watching a simulcast of TED2012 together and sharing their thoughts on it afterwards. They'll also enjoy a whole bunch of other awesome perks like live music, art exhibits, games, gift bags, and of course TED's famous 18-minute talks.  Enjoy yourself, TEDsters.
The Star Ratings Symposium in London shows you how to optimize your strategy for the CMS 5-Star rating system and crank it up to eleven… er, five.
FITC Amsterdam makes the city a place for design, technology and interactivity to connect, as this conference claims.  The oodles of presentations, workshops and juicy goodies on hand will give attendees plenty of chances to interact and connect.  Just keep it PG-13, please.
The Academy Awards ceremony was a success, if you ask me.  After a slow start, Billy Crystal gained a lot of steam and by the end had us laughing out loud.  As for the actual awards, I can't say I was ecstatic about the winners across the board.  It really would have been great if Hugo had picked up the big awards, but The Artist probably deserves them as well.  The day after the Oscars means the end of movie awards season… but don't despair; it also means we're approaching summer movie season!
On a related note, the Netflix deal with The Weinstein Company has them cleaning up, claiming rights to stream lots of award winners, including The Artist.
That's all for today, but we'll continue Hounding you tomorrow.  See you then!
Filed Under: Entertainment • Festivals • Film • Medical & Healthcare • Pharmaceutical • Technology Conferences • Uncategorized
About the Author: Matt hails from Boston and has a background in Film and Writing. As weather phenomena go, he prefers earthquakes to Nor'easters these days, so he's currently residing in the East Bay. He produced a feature film called "Night Sounds" after graduating from Emerson College, which premiered at a film festival in Massachusetts. Matt continues to write screenplays and work in the film community, while working as a freelance copywriter, editor, and part-time member of the Hound.